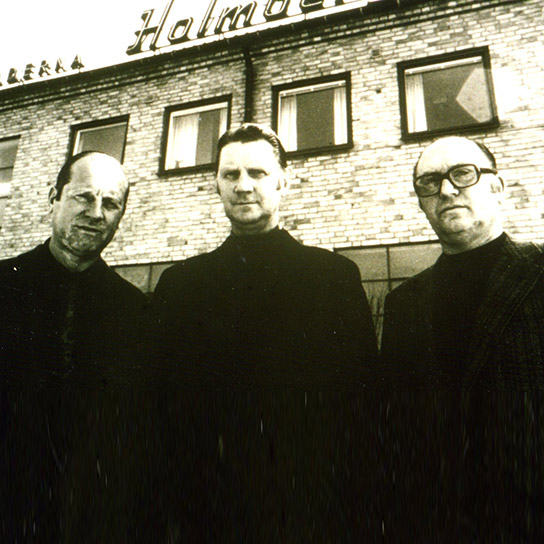 The road to global leadership
In 1938, in a small Swedish village, four industrious and forward-thinking brothers convinced their father to build a manufacturing plant on their property. Over 80 years later, the Holmbergs name is now internationally synonymous with leadership in child safety, occupant safety and safety textiles.
Safety leadership
Holmbergs history>
Follow our story from a single factory to a global safety leader.
Founding
1938 | Brothers John, Erik, Göte and Åke Holmberg convinced their father to build a factory on their property; the starting point for a nine-decade reign as leaders in vehicular safety.
Development of the seat belt
1950s | Over the next several decades, Holmbergs became synonymous with the manufacturing of Swedish seat belt systems.
First Holmbergs seat belts and buckles
1955-57 | Holmbergs began manufacturing buckles for seat belts in 1955 and by 1957 we began supplying seat belts for vehicles in Sweden. From here, our safety solutions have grown internationally and are now used throughout the world.
Buckles for child car seats
1970 | We developed our first seat belt buckle for child car seats. Since then, we've continued developing safety innovations and are now at the forefront of safety research and design for child car seats, harness systems and seat fastening systems.
To this day, our first child seat belt safety buckle design is still popular due to its reliability. We design things to last!
Safety belt retractor patent
1976 | We patented our first safety belt retractor.
LATCH/IsoFix connector launch
1997 | We launched the first of our LATCH/IsoFix connectors, which have since become the standard in child car seat safety worldwide.
Expansion to Asia
2004 | We opened our first production plant in Asia.
New ownership
2017 | FSN Capital acquired majority ownership in Holmbergs, bringing the company into its impressive portfolio of business assets.
Acquisition of Fasching
2018 | We welcomed Fasching Salzburg GMbH into the Holmbergs Group of companies. Fasching manufacturers premium vehicle safety belts.
LATCH/IsoFix innovation launch
2018 | We launched our innovative, multifunctional LATCH/IsoFix arms to make child car seats even safer.
Acquisition of Safety Plus Co. Ltd
2019 | The Holmbergs Group acquired Safety Plus, a Chinese company that focuses on harness systems for child safety seats.
Holmbergs RollFix™ launch
2020 | We launched Holmbergs RollFix™, an innovative harness system with retractors inside that minimize slack in child car seat harnesses, making them even safer.
Acquisition of TeRox
2020 | TeRox joined the Holmbergs Group of companies. Based in Romania, TeRox is a leading European producer of covers and harness systems for child safety seats.
Holmbergs DigitalSafety™ launch
2022 | We developed Holmbergs DigitalSafety™, the connected safety system that helps keep children secure.
DigitalSafety™ consists of an eBuckle™ connected to an electronic hub that communicates with a smartphone app.
The DigitalSafety™ system will sound a warning if the eBuckle™ becomes unbuckled during a trip or if a caregiver walks away from a parked vehicle with the child still inside.
Into the future
Today | Holmbergs continues to design and develop safety solutions in child car seats, occupant safety and safety textiles that are at the forefront of vehicular safety technology.
We have over 1,300 employees working in research, development, engineering, sales and production across Europe, Asia and North America.
Holmbergs is on a journey to relentlessly design, develop and produce the best safety solutions today and tomorrow.
Snapshots of the past>
Images from Holmbergs history
Get in touch>
Please contact us to learn more about Holmbergs or to inquire about partnering with us or becoming a Holmbergs customer. We are always happy to talk with you.
Contact us