Constantly innovating in the name of child safety
With a manufacturing history that stretches back over 100 years, BeSafe has been a pioneer in child vehicle safety since the 1960s. Started by the Torgersen family in the Norwegian countryside in 1919, the company is still run by that same family today and they still put the same dedication to quality into every product they sell.
BeSafe is a pioneer in child vehicle safety
They introduced their first rear-facing child car seat in 1989, long before it had become a regular occurrence to have children facing rearwards in vehicles. At the time, they were criticized and ridiculed for it, but eventually the rest of the world caught up to them and now we know having children facing the back of the vehicle is up to five times safer than having them face forward.
It's this kind of boundary smashing dedication to safety that makes Holmbergs proud to say we've been a safety partner with BeSafe for over twenty years, supplying them with harness components like straps, buckles and adjusters, but also more advanced safety innovations.
Explore more of BeSafe's dedication and products at their Instagram and Facebook channels.
"We have a philosophy of continually innovating to make our products safer and having a partner like Holmbergs with a similar philosophy means we push each other to make the world a safer place for kids."

Okke Van Mourik, Director of New Product Development for BeSafe
Actively keeping children safe
One of the things we love most about working with BeSafe is their willingness to try new, innovative safety solutions. Like when BeSafe was the first of Holmbergs' safety partners to implement Holmbergs RollFix™ into a child car seat, the BeSafe Active Retract Harness™.
The BeSafe Active Retract Harness™ helps parents and caregivers to make sure their children are securely buckled into their seats by proactively solving one of the biggest issues with child car seats; slack in the harness straps.
Research from the German Insurers Association has shown that nearly 50% of children on the road are not buckled into their car seats properly because the harness straps are too loose. The BeSafe Active Retract Harness™ helps to eliminate slack because the Holmbergs RollFix™ retractors make the harness easier to tighten than a standard harness configuration.
The BeSafe Active Retract Harness™ seat won a Bronze Award from the European Commission's 2021 Product Safety Awards in the category of "Protecting the safety of vulnerable consumer groups" (sub-category SMEs).
"We are proud to be a safety partner with a company that is as dedicated to children's safety as Holmbergs are," Director of New Product Development for BeSafe Okke Van Mourik, said.
Bringing child vehicle safety into the 21st century
Being first is something BeSafe excels at. For example, they were the first Holmbergs' client to integrate Holmbergs DigitalSafety™ into one of their car seats; the BeSafe iZi Turn M i-Size. Holmbergs DigitalSafety™ turns it into a "smart" car seat that can connect to a parent's smartphone. The seat alerts drivers when children have unbuckled their harness during a road trip.
In addition to that, it alerts a person if they walk away from the vehicle while their child is still buckled into the car seat!
The seat is able to communicate with drivers thanks to a digital hub that is part of the seat. The hub pairs with a smartphone app and a Holmbergs eBuckle™. The hub, the app and the Holmbergs eBuckle™ all work together to make sure children are safe during and after vehicle rides.
Stretching the age limit for car seats
Traditionally, car seats have been for children up to the age of five or so, but BeSafe are no traditionalists when it comes to children's safety.
Their one of the newest rear-facing child car seats, the BeSafe Stretch, is meant to grow with the child, from 6 months to 7 years of age, or 125 cm tall/36 kg in weight, providing up to 26 cm of leg space.
It uses the Holmbergs Mini Metal Retractor (MMR; lower tether retractor), which is one of our latest innovations for children's safety. Similar to the Holmbergs RollFix™, the MMR is self-tightening for the end-consumer and helps to eradicate slack in the BeSafe Stretch's Lower Tether system.
Both BeSafe and Holmbergs will continue to innovate when it comes to children's vehicle safety and continue to inspire each other in the name of making roads safer for future generations.
Related pages>
Explore some of the solutions that help make BeSafe's solutions world-leading in safety.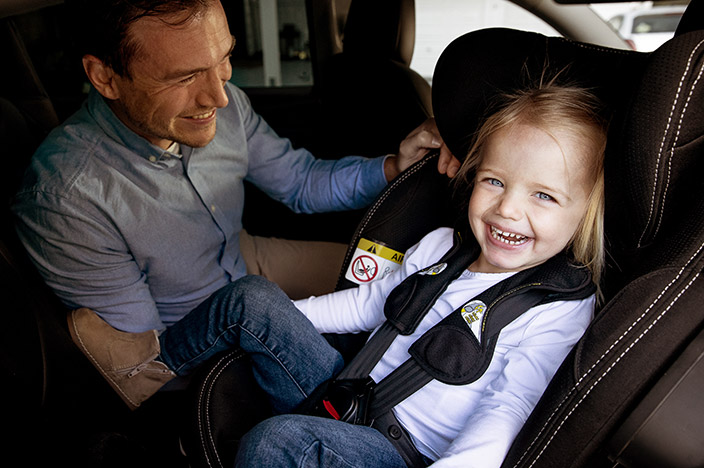 Holmbergs RollFix™
Our slack reducing innovation that prevents straps from becoming loose.
Holmbergs RollFix™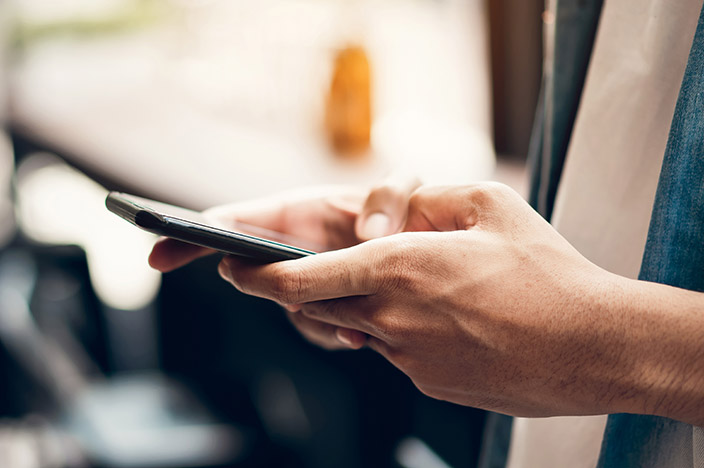 Holmbergs DigitalSafety™
Connected child safety – the next generation protection for the next generation.
Holmbergs DigitalSafety™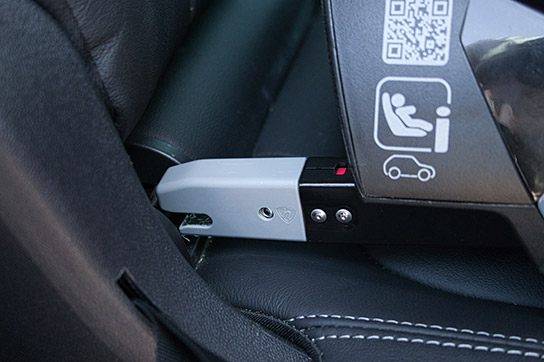 Isofix and LATCH
Multifunctional, off-the-shelf solutions that integrates into the design of your child car seat.
Isofix and LATCH